General Admission
Tickets are available at the entrance gate after parking. Parking is included with admission. Adult $10, Child 6-12 $7, 5 and under is free. Please take advantage of the promotional days to get in at discounted rates during the fair.
PROMOTIONAL DAYS
Children Free Day- Wednesday, September 7- Children 12 and under are free
Senior Day-Thursday, September 8- Fair goers 65 and over get in for $7 before 5pm. Children 12 and under free until 5pm.
Bargain Day- Friday, September 9- Children 12 and under free until 5pm. Everyone 13 years and older admitted for $7 before 5pm
Sunday, September 11- After 3pm everyone admitted for $7
---
Season Tickets
Purchase 5-day season tickets in advance, or at the gate. Adult $25, Child 6-12 $10

Parking at the fair is included with admission!

Early pick up and pay September 5, and September 6, (2022) at the Main Office, 9 a.m. to 4 p.m.

Mail-in advance season tickets are available by filling out the season ticket request form shown below (click here or on form to enlarge). Season ticket's can always be purchased during the fair at any admission entry gate.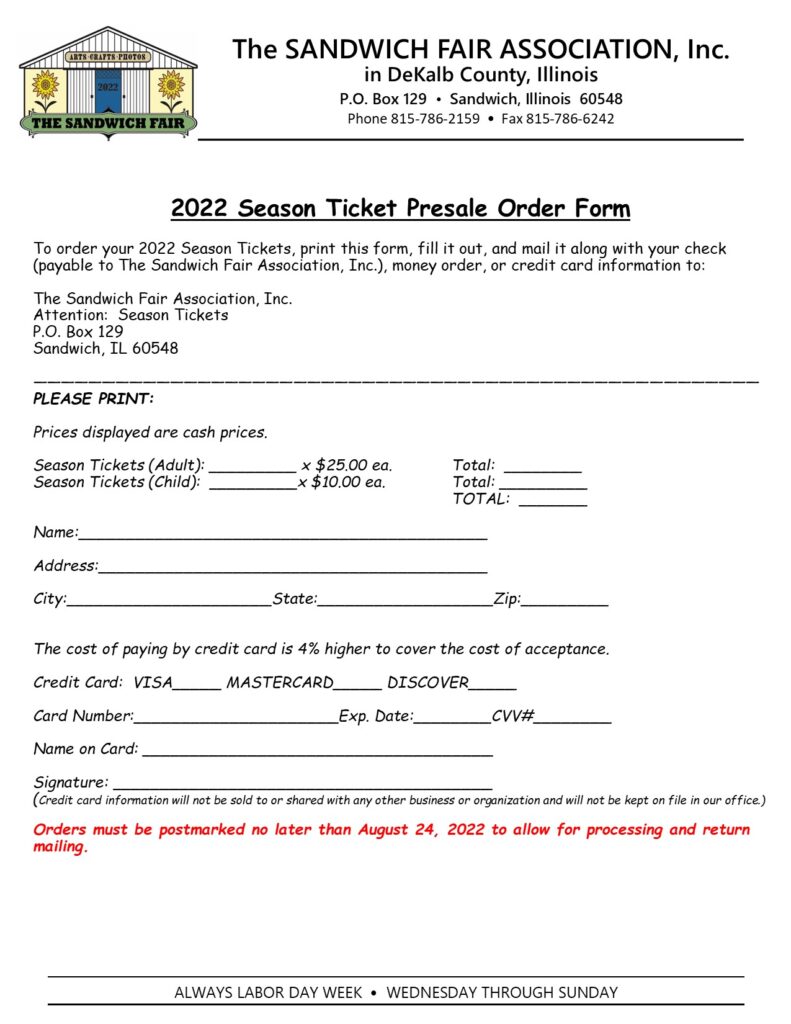 ---
Friday Night on the Main Stage, NTPA Truck and Tractor Pulls, Demolition Derby Tickets on sale starting July 15th at 10am central time.
Reserved seats and general admission tickets for the Friday Night Concert, Truck and Tractor Pulls, and the Demolition Derby can only be purchased online until the start of the fair. Online tickets go on sale starting July 15th. Tickets can be purchased in person at the Grandstand/Main Stage ticket office starting Wednesday of the fair along with online up until the ticketed event. Cash or Credit/Debit is accepted (*Additional fee for Credit/Debit Purchases).
*Please use the online chat function (Help Center) through the Eventsprout page if there are questions or issues while purchasing tickets. They are setup to help you. Please do not call the fair main office for questions regarding online ticket purchases. Thank you.
All event ticket purchases are final, no refunds.
Only Eventsprout.com sells official online Sandwich Fair event tickets. Other online ticket companies and/or brokers may state they are an official seller; however, we cannot guarantee tickets purchased from other sources are legitimate. Please verify the website you are on prior to purchasing. Convenience charges apply to all ticket purchases.
Fair Gate Admission is NOT included in price of a event ticket.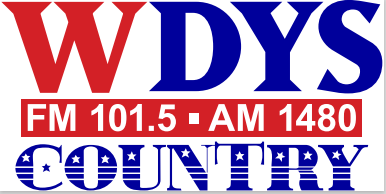 SANDWICH FAIR NEWS ALERTS
9/15….An email from Eventsprout has been sent regarding the Demolition Derby. Check your email and spam for the note. A promo code will be sent 1 week prior to the 2023 demo derby for 2022 online ticket purchasers for the Demo Derby. Enter the code at that time to redeem your 2022 credit. For cash onsite purchasers, hold on to the wristband and bring it back in 2023 for a new one.
9/11…. The 2022 Demolition Derby has been canceled due to weather and track conditions. Demolition Derby Ticket holders who have purchased tickets online will be given a promotional code sent to your email in the next few days. This code will be good for your entry into the 2023 derby. Use the code when you check out and it will take care of the cost. For Demolition Derby Ticket holders who purchased in person at the main stage ticket office, please keep your wristbands that you were issued. Next year bring the wristbands to the main stage ticket office during the fair and exchange the 2022 wristband for a new 2023 wristband for entry into the demolition derby.
Sunday, September 11th, 1 – 2:30 p.m.
General Admission
$15.00
Sunday, September 11th, 1 – 2:30 p.m.
Child Seat
$5.00
Sunday, September 11th, 1 – 2:30 p.m.
Sunday, September 11th, 3:30 – 5 p.m.
General Admission
$15.00
Sunday, September 11th, 3:30 – 5 p.m.
Child Seat
$5.00
Sunday, September 11th, 3:30 – 5 p.m.

Can I buy main stage and track tickets online throughout the fair dates?
Yes. There is no deadline for purchase. Tickets can be purchased up until the event. Once a ticket is purchased online, you will receive a email with a link. Click on the link, and print out your ticket at home and bring it to the event. No tickets are mailed. Track and main stage tickets are available until sold out—online or at the main stage ticket office. Event tickets do not include admission to the fair.
Seating Chart (left chart for reserved seats for pulls, and general admission for the Demolition Derby. The chart on the right for the Friday Concert). Handicapped seats are located in the front of sections A-D in the reserved section. (Click on Chart to Enlarge)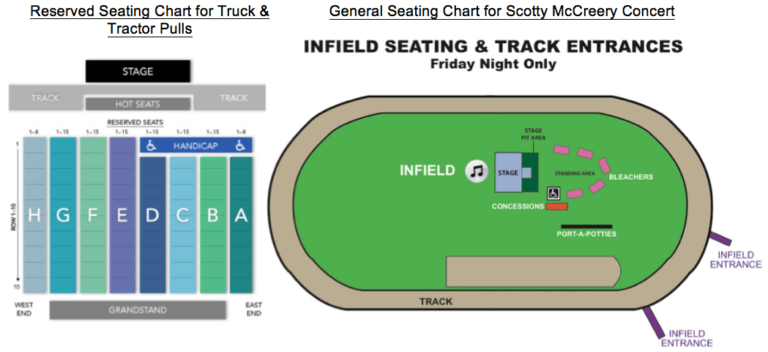 Sunday Demolition Derby Information
Superintendent: Chad Frieders 708-702-8102 cell
Promoter: Robbos Extreme Derby
Click here for updates and Derby Driver Information
Click here for Derby Registration Information
PURCHASE DURING THE FAIR
On sale at the Main Stage Ticket Office during the fair, 8 a.m.–9 p.m. Free admission for children under one year of age.
ADVANCE STAGE AND TRACK TICKET PURCHASE
Online: Buy through Event Sprout, beginning July 15, 2022 10am
---
Ride Tickets
Purchase ride coupons and wristbands at the North American Midway Tickets Booth on the Midway by the rides.
Pre-Sale of discounted ride wristbands are now available until the end of September 6th. Click Here to buy discounted ride wristbands.
More detailed ride information and pricing can be found by visiting the Fair Details Page.
MOBILITY EQUIPMENT RENTAL
Scooters are located as you enter the East entry gate near the handicap parking.
Electric carts (scooters), strollers, wagons and wheelchairs are available for rent. Reserve online at vistamobility.net or call 877-588-4782. Reserve by 9pm the day before to guarantee a scooter. No credit/debit cards's accepted at the fair booth. Equipment rental pickup is close to handicap parking.
Additional Questions
Do you have questions that weren't answered on this page? Please click the button below to read frequently asked questions pertaining to tickets, or Contact Us.