General Admission
Tickets are available at the entrance gate after parking. Parking is included with admission. Adult $10, Child 6-12 $6, 5 and under is free. Please take advantage of the promotional day to get in at discounted rates during the fair.
PROMOTIONAL DAYS
Children Free Day- Wednesday, September 4- Children 12 and under are free
Senior Day-Thursday, September 5- Fair goers 55 and over get in for $6 before 5pm
Bargain Day- Friday, September 6- Everyone admitted for $6 before 5pm
Sunday, September 8- After 3pm everyone admitted for $6
---
Season Tickets
Purchase 5-day season tickets in advance, or at the gate. Adult $22, Child 6-12 $8

Parking at the fair is included with admission!

Early pick up and pay September 2 and September 3 (2019) at the Main Gate, 9 a.m. to 4 p.m.

Mail-in advance season tickets are available by filling out the season ticket request form. Click here to order your season tickets.
---
Friday Night on the Main Stage, NTPA Truck and Tractor Pulls, Demolition Derby Tickets are now on sale starting July 1st. Click Here to Buy Tickets
*Reserved seats for the Truck and Tractor Pulls can now only be purchased in person at the Main Gate ticket office on Monday 9am-5pm and Tuesday 9am-4pm and then at the Grandstand Ticket Office During the Fair. Cash or Credit/Debit is accepted (*Additional fee for Credit/Debit Purchases). General Admission Tickets can still be purchased ahead of time online or at the ticket offices.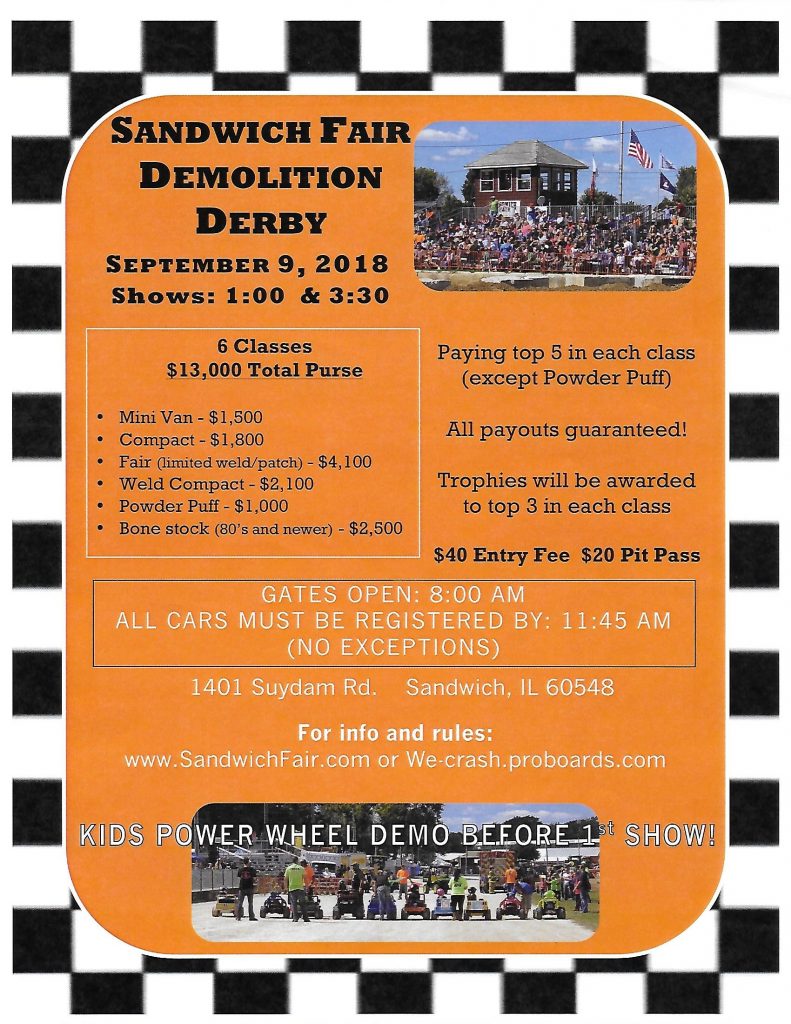 Superintendent: Chad Frieders 708-702-8102 cell
PURCHASE DURING THE FAIR
On sale at the Main Stage Ticket Office during the fair, 8 a.m.–9 p.m. Free admission for children under one year of age.
ADVANCE STAGE AND TRACK TICKET PURCHASE
Online: Buy through Event Sprout, beginning July 1, 2018
In person: Main stage tickets may be purchased 9 a.m.–4 p.m. Monday, September 2 (Labor Day), and Tuesday September 3, at the Main Gate Ticket Office (located east of the main office).
---
Ride Tickets
Purchase ride coupons and wristbands at the North American Midway Tickets Booth on the Midway by the rides.
---
School Groups
School groups including students and chaperones will be admitted free by reservation only submitted before August 23, 2019 on Wednesday, Thursday, and Friday's of the fair from 8am-4pm . To make a reservation for your school group, Click Here.
Additional Questions
Do you have questions that weren't answered on this page? Please click the button below to read frequently asked questions pertaining to tickets, or Contact Us.