Concert: Friday, September 11, 2020 8:00pm – 10:00pm
The 2020 performer information will be announced in June.
Cost: $35 Pit Area (separate area close to the stage with limited availability, standing only, no chairs) and $25 Festival Style (Standing, Bleachers, Bring Your Chair). Handicapped seating area (see chart below), please purchase the $25 tickets and you will be directed to the area by event staff. Does not include gate entry into fair. Concert gate opens at 6:30pm.
General Seating Chart (track chart on the right for the concert). Shows location of the handicapped seating to the stage left. Click on chart to enlarge.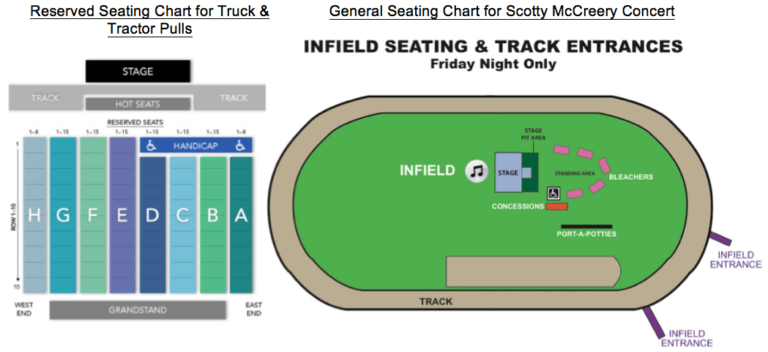 Tickets will be available for purchase online in July. Tickets will be available for purchase in person during the fair at the main stage/grandstand ticket office.
Can I buy main stage and track tickets online throughout the fair dates?
Yes. There is no deadline for purchase. Tickets can be purchased up until the event. Once a ticket is purchased online, you will receive a email with a link. Click on the link, and print out your ticket at home and bring it to the event. No tickets are mailed. Track and main stage tickets are available until sold out—online or at the main stage ticket office. Event tickets do not include admission to the fair.