Welcome!
The Sandwich Fair, first started as an annual livestock show in DeKalb County. Held yearly, Wednesday–Sunday after Labor Day since 1888, it is one of the oldest continuing county fairs in the state of Illinois. Large crowds stroll throughout the beautiful tree lined grounds, all five days of the fair, which has something of interest for everyone.
HOURS OF THE FAIR september 6-10
8 a.m.–11 p.m. Wednesday through Friday; 8 a.m.–12 a.m. Saturday; and 8 a.m.–7 p.m. Sunday.
Link to the Souvenir Page. (Click Here)
*Promotion Schedule Updates
Main Stage and Track Daily Schedule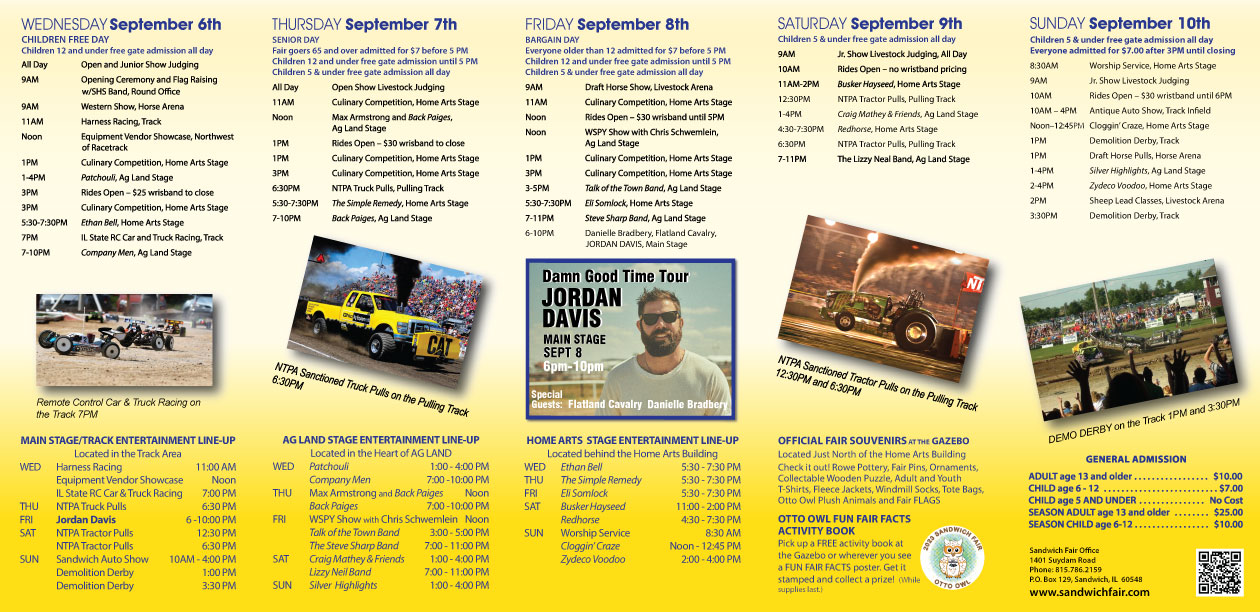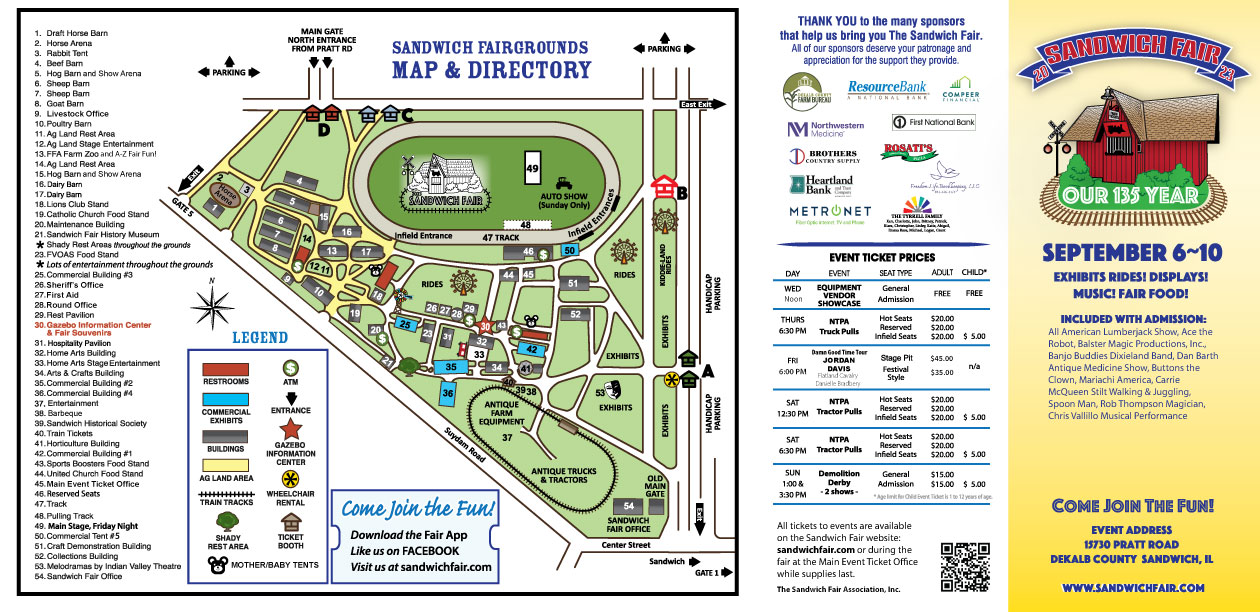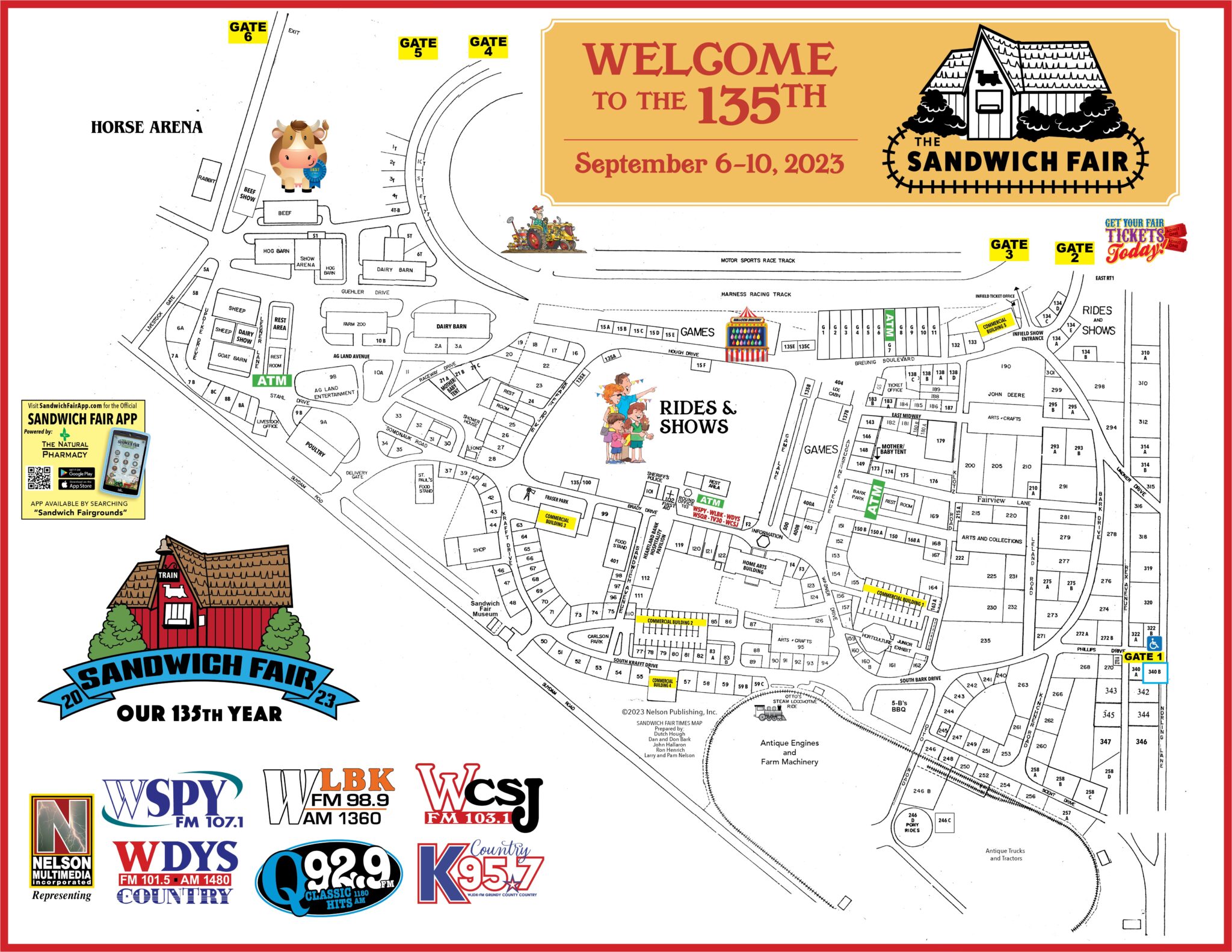 Click here for the 2023 vendor location by booth number. Use the map above to locate the vendor by using the booth lot number.

*The Vendor List and Map Location can be found on page 12 and 13 of the Sandwich Fair Times Newspaper by clicking the banner above.
2023 Daily Schedule of Events List Click Here
Wednesday- Harness Racing and Illinois State RC Car and Truck Racing Championships
Thursday- Truck Pulls
Friday- Concert in infield
Saturday- Tractor Pulls
Sunday- Antique Car Show and Demolition Derby
Click here to buy tickets online.
There will be a "History Hunt" held during this years fair by the Sandwich Fair Museum that fairgoers can participate in. Papers for the hunt can be picked up at the Fair Museum during the fair and returned to the museum before the Sunday closing of the fair.
*Please refer to the below information regarding ride wristbands.
promotional days
Children Free Admission Day- Wednesday, September 6 Children 12 and under are free all day.
Senior Day-Thursday, September 7- Fair goers 65 and over get in for $7 before 5pm. 12 and under are free until 5pm.
Bargain Day- Friday, September 8- Everyone older than 12 admitted for $7 before 5pm. 12 and under are free until 5pm.
Sunday- September 10- After 3pm everyone admitted for $7
*RIDE WRISTBANDs | WED-Thur- FRi and SUN
Wed, Sept 6: 3pm – Close -$25 per person on site purchase
Thurs, Sept 7: 1pm – Close-$30 per person on site purchase
Fri, Sept 8: Noon – 5pm-$30 per person on site purchase
No wristband rides on Sat, Sept 9
Sun, Sept 10: 10am – 6pm-$30 per person on site purchase
*The time ranges for wristbands are when a wristband is accepted for admission to a ride. Outside the time ranges, tickets must be used.
On-line pre-sold ride wristbands are valid any ONE day and will be sold online starting in August 15 until midnight of September 5th for $25 per wristband and one service fee per order. (order multiple wristbands at at time for one service fee) (Not Valid on Saturday)
* Upon purchase, print the receipt and bring it to a redemption booth located in the carnival area to redeem your wristband for the day you choose to use it.
Purchase your wristbands at the ride ticket booths on the Midway during the Fair.
Individual Ride Ticket Prices (3 to 6 tickets per ride)
Single Ticket: $1.50
Family Fun Pack, 20 Tickets: $28
Mega Pack, 50 Tickets: $65
North American Midway Statement on Carnival Safety Click Here.
CULINARY COMPETITION SCHEDULE held at Home Arts Stage for 2023
*Rules for entering the Culinary Competition are found
in the Culinary Competition section of the Exhibitor Guide.
The Exhibitor Guide is found on the website on the Exhibitor Page
Hammered Dulcimer Music By Sherri Farley
1-3pm during the culinary competition on Wednesday, Thursday, and Friday.
LumberJack Shows
Located East of the horse track and North of the Carnival.
Wednesday 1:00 pm & 6:00 pm
Kids camp 1:30 pm
Thursday 1:00 pm & 6:00 pm
Kids camp 1:30 pm
Friday 1:00 pm & 6:00 pm
Kids camp 1:30 pm
Saturday 1:00 pm,3:00 pm and 6:00 pm
Kids camp 1:30 pm
Sunday 11:00 am & 1:00 pm
Kids camp 11:30 am
ag Land Stage Music and schedule for 2023
Wednesday, September 6th (two shows)
Patchouli 1-4pm
Company Men 7-10pm
Thursday, September 7th
Max Armstrong and Back Pages Noon
Back Paiges 7-10pm
Friday, September 8th
Talk of the Town Band 3-5pm
The Steve Sharp Band 7-11pm
Saturday, September 9th
Craig Mathey & Friends 1-4pm
The Lizzy Neil Band 7-11pm
Sunday September 10th
Alize Rodriguez 11am-Noon
Silver Highlights 1-4pm
Home Arts Stage Music and schedule for 2023
Wednesday, September 6th 5:30-7:30pm
Ethan Bell
Thursday, September 7th 5:30-7:30pm
The Simple Remedy
Friday, September 8th, 5:30-7:30pm
Eli Somlock
Saturday, September 9th, 11:00-2:00pm
Busker Hayseed
Saturday, September 9th, 4:30-7:30pm
Redhorse
Sunday, September 10th, 8:30am
Worship Service
Sunday, September 10, Noon-12:45pm
Cloggin' Craze
Sunday, September 10th, 2:00-4:00pm
Zydeco Voodoo
Sandwich Fair Entertainment Acts (included with general admission) Performed at various times locations throughout the fair.
Ace the Robot, Balster Magic Productions, Banjo Buddies Dixie Land Trio, Dan Barth Entertainment, Buttons the Clown, Mariachi America, Spoon Man, Carrie McQueen: Stilt Walking and Juggling, Moo-Mania, Rob Thompson Magician, and Chris Vallillo Musician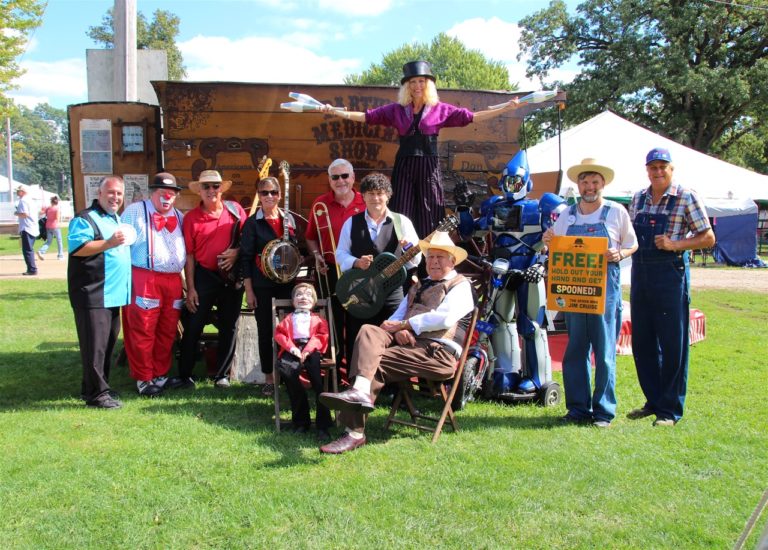 SANDWICH FAIR AUTO SHOW
The show is held on the race track infield from 10:00 a.m. to
4:00 p.m. on Sunday of Fair Week.
Registration begins at 8:00 am. and ends at 12:00 Noon.
Complimentary rolls and coffee for early arrivals will be available.
All cars are eligible through 1990.
This is a SHOW ONLY, there will be no judging.
A $15.00 registration fee is due the day of the show.
(Cash Only) There is no pre-registration!
All car show entries are eligible for the RAFFLE.
Winners must pick up their prize by 4:00 p.m.
Any Questions or other information please contact:
Tracy and Dawn Rogers
Sandwich, Illinois
815-482-3785
Please refer to the navigational menu to access the information you are searching for!
Click here to look at past years of Sandwich Fair event schedules.