Welcome!
The Sandwich Fair, first started as an annual livestock show in DeKalb County. Held yearly, Wednesday–Sunday after Labor Day since 1888, it is one of the oldest continuing county fairs in the state of Illinois. Large crowds stroll throughout the beautiful tree lined grounds all five days of the fair that has something of interest.
131st Sandwich Fair Map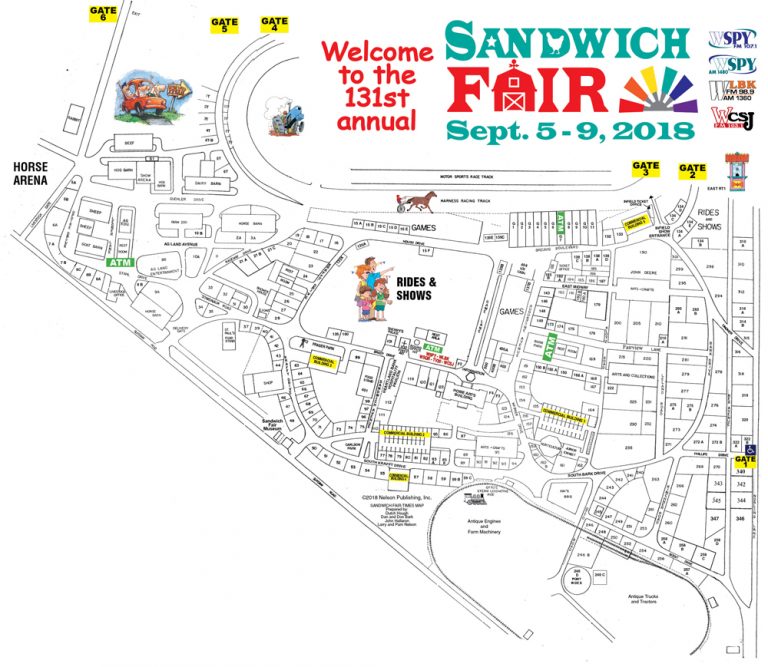 131st Sandwich Fair Vendor List
2018 Entertainment and Daily Promotional Schedule
*Please note the time for the Western Horse Show on the Daily Promotional Schedule is incorrect. It is 9am, not 11am.
*Please refer to the below information regarding ride wristbands. Friday's information was not included in the Promotional Schedule.
promotional days
Children Free Day- Wednesday, September 5- Children 12 and under are free
Senior Day-Thursday, September 6- Fair goers 55 and over get in for $6 before 5pm
Bargain Day- Friday, September 7- Everyone admitted for $6 before 5pm
Sunday, September 9- After 3pm everyone admitted for $6
UNLIMITED RIDE WRISTBAND | WED – FRI, SUN
The 2018 Sandwich Fair, is held Sept 5-9, at 1401 Suydam Rd, Sandwich, IL. Grab family and friends and go round-and-round on a fun-loving ride; bite into classic carnival food; try your luck at a game; or sit back and take in the ambiance. Ride Wristbands are valid any ONE day (Not Valid on Saturday. Please note: Sun wristband also sold onsite for $20) — Wed, Sept 5: 3pm – Close, Thurs, Sept 6: 1pm – 6pm, Fri, Sept 7: Noon – 5pm and Sun, Sept 9: 10am – 5pm. No wristband rides on Sat., Sept 8. (Please note: discount ticket is $20 sold online until Sept 4 at midnight. Onsite purchase during the fair cost Wednesday-Friday is $25) *Information about wristbands in the Sandwich Fair Times Newspaper is incorrect. Please use the times from this page and/or the Sandwich Fair App.
Purchase your wristbands at the ride ticket booths on the Midway.
CULINARY COMPETITION SCHEDULE held at Home Arts Stage
Wednesday: 1:00 pm – Bountiful Yeast Treats
Wednesday: 3:00 pm – Pasta Possibilities
Wednesday: 4:15 pm – JUNIOR Culinary competition PIZZA
Thursday: 11:00 am – Same Recipe Apple Pie Bars
Thursday: 2:00 pm – Beef Bonanza
Thursday: 4:00 pm – Chicken Celebration!
Friday: 11:00 am – Chocolate Lover's Dream
Friday: 2:00 pm – Pork Extravaganza
Friday: 4:00 pm – Gramma's Cookie Jar
LumberJack Shows
Wednesday 1:00 pm & 6:00 pm
Kids camp 1:30 pm
Thursday 1:00 pm & 6:00 pm
Kids camp 1:30 pm
Friday 1:00 pm & 6:00 pm
Kids camp 1:30 pm
Saturday 1:00 pm,3:00 pm and 6:00 pm
Kids camp 1:30 pm
Sunday 11:00 am & 1:00 pm
Kids camp 11:30 am
Please refer to the navigational menu to access the information you are searching for!