Directions
The Sandwich Fairgrounds address during the fair is 15730 Pratt Road. Please use the Pratt Road entrance to enter the fair parking lot to keep traffic moving and reduce congestion in Sandwich and Rte 34, especially on Friday, Saturday, and Sunday of the Fair. Exits will be Lisbon Street to the East, and gate 5 to the West. Fairwinds Crossing and Pratt become exits towards the end of each evening. Fairwinds Crossing will continue to be a entrance on the east side of the grounds but it is recommended to be used by Sandwich Residents on the West side of town. Bike Riders and pedestrians can enter at Gate 1 by the Main Ticket Building just to the west of Fairwinds Crossing or Lisbon Street. Bikes can be parked between the Main Ticket Office and the Fair Association Office. Uber, Lyft, Taxis etc. should enter at Pratt Road drop off your customer at the ticket gate North of the track and exit gate 5 or Lisbon Street. Just mention to a parking attendant you are dropping off and leaving.
Pratt Road Main Entrance Map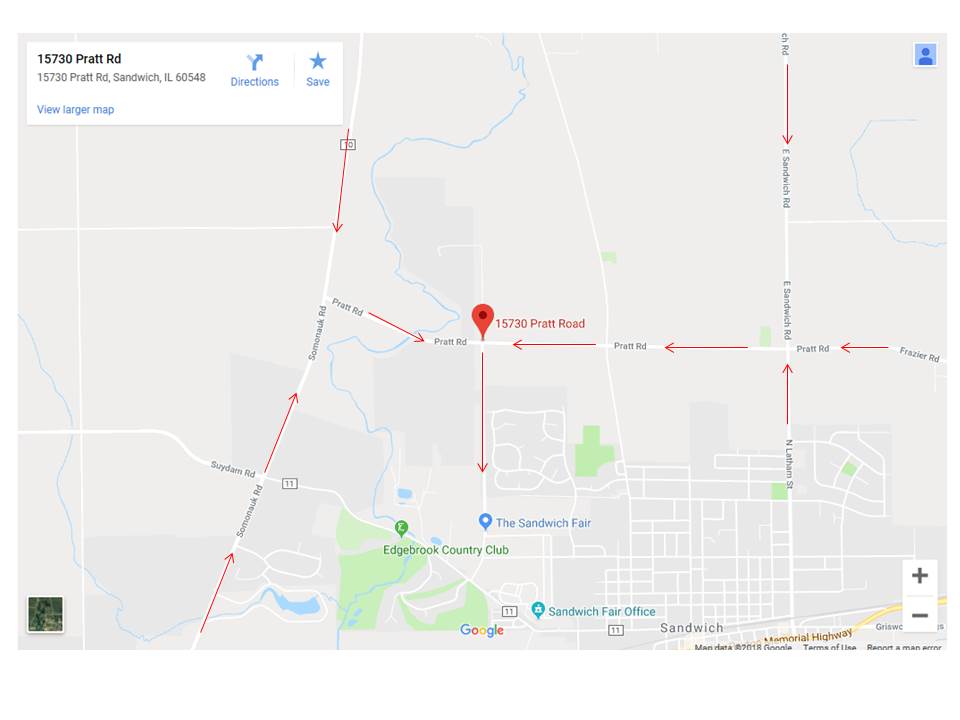 Bike and Pedestrian Map
Ride Share Drop off Map
Choose the location (closest to you) from the options below, and send the directions to your phone.
---
The Sandwich Fair
P.O. Box 129 (mailing address)
15730 Pratt Road (Sandwich Fair event address)
1401 Suydam Road (Non-Fair events and office address)
Sandwich, IL 60548
Email: website[at]sandwichfair.com
Sandwich Fair Event Hours:
Wednesday-Friday: 8 AM – 10 PM
Saturday: 8 AM-11 PM
Sunday: 8 AM – 7 PM
---
If you have a question, click here first to look at the frequently asked question list.
For prospective Bands and Entertainment Acts
Please submit your information to be considered for the Sandwich Fair by sending your information to entertainment[at]sandwichfair.com Types of entertainment this applies for: strolling acts, entertainment, on track entertainment, performances, Ag Land, Main, and Home Arts Stages.
Advertising
Submit advertising and promotional requests to advertising[at]sandwichfair.com
SPONSORSHIPS
Interested in sponsoring the Sandwich Fair. Please let us know by emailing sponsors[at]sandwichfair.com
Exhibiting
If you are interested in showing livestock, collectible, vegetables, flowers, quilts, canned goods, antique tractors, antique auto show, you are considered to be an Exhibitor. Please visit the Exhibitor Page to learn more.
Vendors
Learn more about becoming a vendor at the Sandwich Fair. Vendors are classified as people, groups, or businesses that would like a space during the fair to promote a organization or sell products such as services, merchandise, or food. To learn more and apply please visit the Vendor Page.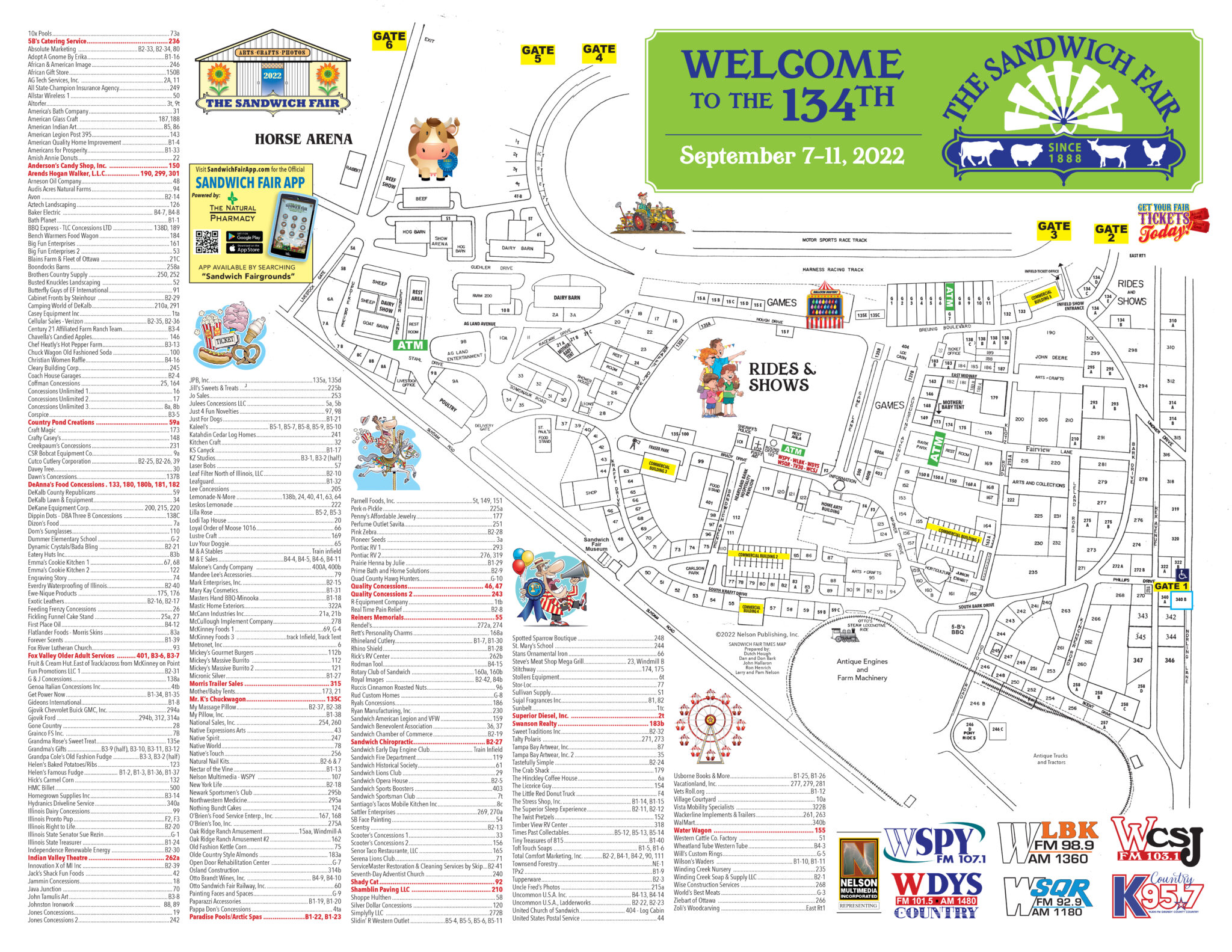 2022 Commercial Craft Building Vendors List
Public and Private School and Group Field Trip Program has been discontinued after 2019.
Take advantage of the current promotion. No registration needed. Wednesday children 12 and under have free admission all day. Thursday and Friday Kids 12 and under are free until 5pm. Also, the Friday promotion is $7 for everyone older than 12 before 5pm.
Encourage your children to participate in the fair by becoming an exhibitor and show off their projects and talents. This is a great way to get a season pass at low cost which is good for entry every day of the fair. Visit the exhibitor page for more details.
HANDICAP AND MOTORCYCLE PARKING
A parking attendant will direct you to the proper areas. Please have your handicap sticker available.
handicapped area information at friday night concert.
*Handicapped seating area (see chart on Friday Night Concert Page), please purchase the $30 tickets and you will be directed to the area by event staff. $40 section is standing only. Make sure to have your own chair, wheelchair, or scooter to sit on. One "buddy" can accompany you into the area. If you have a large group, there is plenty of room in the $30 section in front of the bleachers to sit with a large group. All attendees need a paid ticket to enter the concert.
MOBILITY EQUIPMENT RENTAL
Scooters are located as you enter the East entry gate near the handicap parking.
Electric carts (scooters), strollers, wagons and wheelchairs are available for rent. Reserve online at vistamobility.net or call 877-588-4782. Reserve by 9pm the day before to guarantee a scooter. Limited availability, reserve as early as possible. No credit/debit cards' accepted at the fair booth. Equipment rental pickup is close to handicap parking.
Rates
Wheelchair: $25 per day
Electric Carts & Scooters: $60 per day
Send Us a Message (The most asked question is right above this, please read before contacting us about wheelchair or scooter rentals. This is also on amenities page and FAQ page.)
*Attention Sandwich Fair New Hampshire website visitor. Please note this is the Sandwich Fair in Illinois Webpage, not the New Hampshire. Please visit thesandwichfair.com for the correct website for the fair in New Hampshire.
Quick Direct Email Links
Vendors: sandwichfairroundoffice[at]gmail.com
Entertainment/Band Submissions: entertainment[at]sandwichfair.com
Public Event Grounds Rentals: fairgroundsrental[at]sandwichfair.com