Sandwich fair NEWS Alerts
8/2….August Office Hours for paper form Exhibitor Entry is 9am-3pm Monday-Friday until the week of the 16th. Hours then will be 9am-5pm Exhibitor deadline is midnight on the 20th. There is also a drop box to the left of the front door that entry's can be placed in 24/7 when the office is not open.
The Online Exhibitor Guide for 2021 is now available on the exhibitors page. Paper Exhibitor Guides are available for pickup at the Fair Association Office. There is a gray box located outside the front door to the left of the front door for after hour pickup. Lift the weather proof lid on top, reach in, and grab one.
7/16….Vendor Update…A fair favorite, Fay's Pork Chop BBQ Inc., a Sandwich Fair Vendor for 59 years, have announced their retirement. Bob Dempsey and crew have decided not to return to the fair. We appreciate their long lasting dedication to the fair. Please join us in wishing Bob and his family a happy retirement. Bob and Fays BBQ will be honored at the opening ceremony on Wednesday of the fair at 9am.
In Fay's traditional space, 5B's Catering Service, also from Waterman, will be joining us offering a similar selection. We are looking forward to presenting a great fair.
7/15…*Reserved seats and general admission tickets for the Friday Night Concert, Truck and Tractor Pulls, and the Demolition Derby can only be purchased online until the start of the fair. Online tickets go on sale starting July 15th at 10am. Tickets can be purchased in person at the Grandstand/Main Stage ticket office starting Wednesday of the fair along with online up until the ticketed event. Cash or Credit/Debit is accepted at the Main Stage Ticket Office. (*Additional fee for Credit/Debit Purchases).
6/29…. 2021 Paper Exhibitor Guides will be mailed in Mid-July. Online registration for 2021 starts July 1st and ends August 20th.
2021 Poster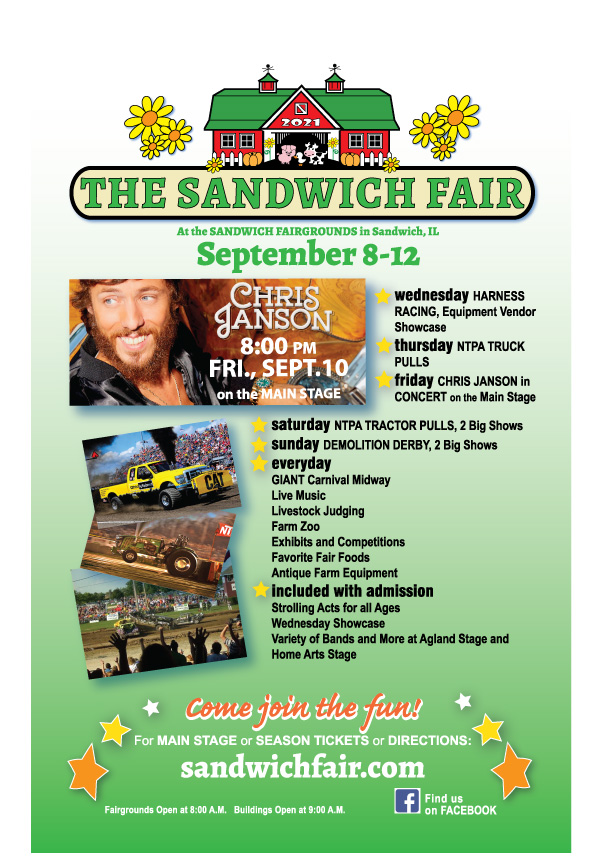 2019 Time Lapse Video
The Sandwich Fair in DeKalb County, Illinois is an exciting destination for all ages.
Since the first Fair held here in 1888, the fairgrounds has provided the perfect showplace for agricultural exhibits and commercial venues. The 185 acres of well-manicured park-like settings, the charming buildings, and the friendly atmosphere improve with age.